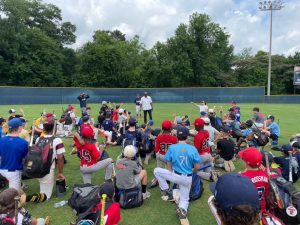 I recently received the iPhone 12 Pro Max with 512 GB for my birthday. 512 GB is the largest amount of storage you can get. I really needed this amount because I use my phone as a tool rather than a toy.
I am fascinated about how the phone's size doesn't change and what the capacity does without being seen. Before getting more capacity, I had to constantly delete videos and apps I use for work.
So many of my clients over the years have put so much pressure on themselves to get bigger, stronger and faster in order to be acknowledged as elite baseball players. Some, shorter in height, prayed to grow to more than 6 feet.
If you want to become bigger, stronger and faster on and off the baseball field, you have to increase your capacity in my five A's:
Attitude
Awareness
Adjustments
Aptitude
Athleticism
Without having sufficient capacity in these five areas as a baseball player, you will find yourself blaming the bat, your coaches or your parents, etc.
May through July are the three months that my hitters focus on maintaining skills.
Talent is what you do well
Habits is what you do well without thought
Skills is what you do well without thought while under stress
Before your next practice, talk to your hitting coach and team coach about how they can help you build your capacity for the five A's.
For more information, visit L.E.A.D. Center for Youth today. Also, check out our Digital Magazine.
C.J. Stewart has built a reputation as one of the leading professional hitting instructors in the country. He is a former professional baseball player in the Chicago Cubs organization and has also served as an associate scout for the Cincinnati Reds. As founder and CEO of Diamond Directors Player Development, C.J. has more than 22 years of player development experience and has built an impressive list of clients, including some of the top young prospects in baseball today. If your desire is to change your game for the better, C.J. Stewart has a proven system of development and a track record of success that can work for you.