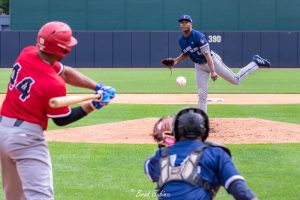 It is still October, but November nears. August through October is the time my hitters commit and discipline themselves to try new things. The goal is to determine what works and what doesn't. November through January are the months of engagement—the time to build habits and strength based on what works.
Compare these two phases to gardening. There is a tilling process that requires digging, stirring and overturning of the soil before planting seeds. Planting seeds in baseball is the act of teaching.
Do you believe learning lasts after you have been humbled?
When I was a teenager, I was like a lot of teenage boys who thought they knew everything. I was talented and very athletic. Now that I am a seasoned adult who has experienced many ups and downs, I realize that talent is the floor and skills are the ceiling.
A bridge between talent and skills is humility. I define humility and not thinking less than of yourself, but thinking of others more than yourself.
The tilling and humbling phase of development that should happen August through October can make it much easier to plant seeds and learn November through January.
So throughout October, commit to trying new things to determine what works and what doesn't.
Experiment with your load and timing. Build strong habits and strength this winter. Feel empowered in the spring by converting those habits to skills. Maintain those skills this summer with an application mindset.
Remember, skills pay the bills.
For more information, visit L.E.A.D. Center for Youth today. Also, check out our Digital Magazine.
C.J. Stewart has built a reputation as one of the leading professional hitting instructors in the country. He is a former professional baseball player in the Chicago Cubs organization and has also served as an associate scout for the Cincinnati Reds. As founder and CEO of Diamond Directors Player Development, C.J. has more than 22 years of player development experience and has built an impressive list of clients, including some of the top young prospects in baseball today. If your desire is to change your game for the better, C.J. Stewart has a proven system of development and a track record of success that can work for you.